Of all the people interviewed so far in this series of Class Profiles, I think Lauren Whitehead is certainly the most well-traveled! Currently living in Ecuador as a Fulbright Fellow at the United Nation's Refugee Agency, Lauren recently finished an MA in Global Human Development at Georgetown's School of Foreign Service. Her travels and adventures having taken her far and wide and she was generous enough to tell us all about them below. I hope you all have as much fun reading her responses as I did!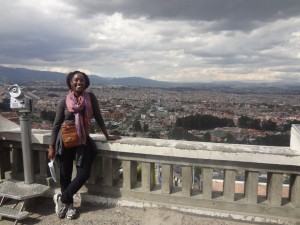 Can you tell us a bit about what you were involved in while at Princeton?
Two words: theater and dance. I did shows at 185 Nassau, with the Princeton Shakespeare Company, Black Arts Company: Drama, and Theatre Intime. I also danced with Naacho; worked at the University Ticketing office in Frist (Hi, Mary!); and was an RCA in Whitman for two years when it opened. Best campus jobs ever. When I think back on it, all of the activities I was involved in, even some of the short-lived pursuits (ummm, Club Lacrosse anyone?), not only defined my Princeton experience, but also shaped the path I chose after graduation. Being so intimately involved with the arts led me to spend three and a half incredible years at Arena Stage, a regional theater in DC. The lessons learned as an RCA helped me connect with my students to enrich the learning process as a teacher in Asia. Just taking the plunge to experiment with new pursuits like South Asian dance and lacrosse nudged me out of my comfort zone and across the seas when I graduated. And that was just the beginning.
Talk about what you've been up to since Princeton. What are you currently working on? What has the path been like to get to where you are today? What's next?
Naturally, as a Spanish & Portuguese major, three days after graduation I hopped on a plane to Thailand and pretty much never looked back (perhaps to the dismay of my dear Spanish professors!). I spent two years there, first with Princeton-in-Asia teaching literature, drama, and public speaking at a private university and then also working with the NGO HelpAge International. In two years, I had the chance to see ten countries around South and Southeast Asia, and became fixated on finding a way to continue working and seeing the world. So I turned to a career in international development (aka trying to find a way to make a difference in the lives of the global poor while taking absurd quantities of pictures in beautiful far-flung places with adorable babies. But mostly the former.)
The moment when it first clicked for me was actually on an overnight bus ride in India where I watched a horrible accident that claimed several lives. To my surprise, my reaction was not so much outrage at the drivers, but at the millions of rupees that had been spent building a shiny new highway for tour buses while a piddling amount had been provided to the nearby hospital. We watched as the hospital had to literally send wagons and men running with wooden stretchers to carry off the injured and dead. A year later, I was in another horrible accident in Burma where I was once again fortunate to escape relatively unscathed. My immediate concerns were for the welfare of the family whose truck (and hence livelihood) had been destroyed in the wreck rather than the uncertain six-hour journey in the middle of the night that lay ahead. That is when I knew I was going to be spending a lot more time on dusty back roads in remote towns and places I couldn't pick out on a map. That moment, combined with countless others prior, is what led me to recognize a deep-seated passion for driving global change. Perhaps not surprisingly, last May I completed my Master's in Global Human Development with a focus on social enterprise and humanitarian emergencies & refugees at Georgetown's School of Foreign Service. Thanks to Princeton and Georgetown, I have now been able to travel to 22 countries and counting with no plans of stopping anytime soon. J
Who is a Princetonian who has helped you along the way? Can you talk a bit about how this person has been an influence on your life or career?
It would literally be impossible to name just one Princetonian who has shaped my life. I find that my best friends most often come in trios. Brandee Tate, Samantha Hyacinth, and John Fleming have been my incredible sounding boards on many legitimate and ludicrous (though always life-threatening!) issues that have come up along the way and have never failed to be there when I have needed them most. Lovell Holder and Dylan Alban have always done a better job of knowing my next moves better than I do, and Denali Barron, Jess Lander, and Elena Sheppard are lifetime companions I only wish I had the pleasure of knowing at Princeton, but had the joy of calling my partners in crime in Asia. Outside of my collegiate companions, Professor Robert Sandberg really and truly helped me delve deeper into myself as a student, as an artist, and as a curious inhabitant of the world. He instilled in me not only a deeper appreciation of self with all the talents and shortcomings that entails, but a more profound recognition of what it means to apply oneself fully and completely to one's passions, however disparate they may seen. When I introduced my idea for my senior creative thesis production The Beat is Sweet, a blend of writing, song, and dance inspired by a fictional dream-world encounter between Federico Garcia Lorca and Langston Hughes, Bob merely wondered how not why I planned to erect a 20-foot full moon in the Marie and Edward Matthews '53 Acting Studio. Now that takes faith.
Without my circles of friends, best friends, and inspiring faculty at Princeton and elsewhere, I have no doubt I would probably have settled on the first "sensible" job offer to come my way after graduation and most certainly would not be on a Fulbright scholarship working with the UN's Refugee Agency in Ecuador right now!
What about your life now would your Sophomore-year self be most surprised by?
My Sophomore-year self would probably be shocked that I did not venture into international politics, nor have I yet acquired that Spanish villa we've been aching for. Haha! No, that might be some of it, but I think more than anything, Sophomore Me would be surprised to find Post-Grad Me contemplating a life back home in Washington, DC rather than residing permanently abroad as I had always intended. There was more than one period of anti-home angst during my Princeton years, if only because I needed the chance to go away and come back again refreshed to appreciate what the city has to offer, particularly for a career in international development. But don't worry, Sophomore Me! I am holding out hope—we might still get to Antarctica!
What's your favorite thing about your life right now?
I truly do love that each day is a learning adventure living abroad. It can be exhausting, but there is some level of excitement and triumph in something as small as learning to navigate the local market on your own or finding out how not to get cheated by taxi drivers. In Ecuador, I work designing monitoring and evaluation tools that aim to improve poverty alleviation programming by assessing the projected impact of a program against the intended and actual outcomes for the communities that program serves. Every day is eye opening as I find new and different ways to incorporate what we see and experience among the populations we work with into the projects we execute as an agency of the UN. There is nothing more satisfying than identifying why a successful program works or where a struggling program can be cast a lifeline because you know that at the end of the day the true result is not a set of numbers in a spreadsheet or reports to headquarters, but the realization that your job well done means a life in less jeopardy and the validation that, yes, this was always the right career path.
Even the most rewarding careers have their moments of unbridled doubt. I am very grateful to have supportive friends and parents who, however horrified at my next destination, have nevertheless been my constant cheerleaders for every bout of homesickness and moment of panicky indecision along the way, including my boyfriend who never seems to say 'no' even when it means sending me to the other side of the globe and back again.
Is there anything else you'd like your classmates to know about you?
Not about me, but perhaps about themselves? You know that trip you have been sort of saving up for over the past two years, nickel by nickel, but there is always something that comes up so you just don't have enough cash/ time off or know if it's the right thing to do? Just do it. Really, just do it. There are so many things about yourself that you won't know and can't know until you do and even if it's just for a vacation to relax and soak in some sun, you deserve it. You know you've worked hard enough for it. We're Princetonians, after all. 😉