You may have noticed a curious absence in this space over the past month—my only excuse is that writing a dissertation is hard! Hopefully, we (I) will get back on track now as we have some exciting and interesting profiles coming in!
Brian Gurewitz was kind enough to sit down and talk with us about following dreams, graduate school, and letting life take one where it will. He currently works at Quantifind, in the San Francisco Bay Area, where his work combines data analytics, marketing, and movies. Thanks for chatting with us, Brian!
Can you tell us a bit about what you were involved in while at Princeton?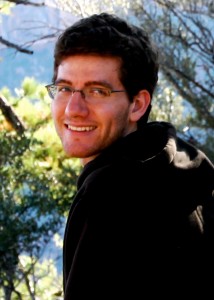 At Princeton I spent a large portion of both my academic and non-academic time on music. I sang in the Nassoons, played in the orchestra, worked on musical theater productions in a revolving door fashion with PUP, and spent far too many hours in practice room 26 downstairs at Woolworth. Practice room 26 had one of the best pianos, but it wasn't as big as that other practice room, so I didn't feel as bad about occupying it from 8pm through 4am whilst consuming a 64-ounce slushie from Frist or a take-out burrito from that weird Indian-Mexican place, Kaliente (now defunct). Once, I got in trouble for sleeping on the weird sofa bed in the Woolworth lobby because the custodian thought I was a vagrant. I don't blame him – I looked awful. But we became friends in the end. Then I graduated.
(I majored in music and did certificates in neuroscience and oboe/English horn performance)
Talk about what you've been up to since Princeton. What are you currently working on? What has the path been like to get to where you are today? What's next?
Yikes. I still have relatively little figured out.
I left Princeton having realized that life as a music director and composer would be neither psychologically nor financially sustainable for me. So I did not follow my dream, where dream is defined as that artsy/creative thing you were pretty good at that's also a risky life choice. Instead I worked as a management consultant for 3-ish years in New York and reveled in being a stable human.
Towards the end of that stint some fire emerged from within me and I moved to Guatemala for a time to dabble in international development, and then to Korea to write songs for kids. At that point I gave myself a stern talking-to about how if I could make a living writing music (the Dream as defined above), then I should pursue that maybe. So I went to Stanford Business School. No wait, that doesn't… Whatever, I went to Stanford Business School, learned some more things, and wrote a lot of music there anyway. Out in the Bay Area I also got sucked into the tech world and began pursuing projects in neurotechnology and virtual reality.
Since Stanford I have been working at the intersection of data analytics and the movie industry. The start-up I work for, Quantifind, uses social data to build predictive models of consumer intent. These tools are incredibly powerful if you're a big customer-facing brand who is trying to figure out what's really important for driving sales. I apply these concepts to Hollywood's movie studios to help them run the savviest marketing campaign possible for their big releases. It's fun, fast-paced work. And I have a collection of single-use guest badges in my drawer from visits to the studios, which I was probably supposed to throw away but I haven't because they're cool.
I don't have a road planned out for my future. In fact, I've found the presence of such a plan to be rare among my similarly-aged friends, though it's possible that says more about my friend circles than anything else. Regardless, I've embraced a tendency towards variety in my work, and I'd sooner have bits of many experiences than a life fully immersed in one.
Who is a Princetonian who has helped you along the way? Can you talk a bit about how this person has been an influence on your life or career?
It's the friends I made during undergrad that continue to make the biggest difference in my life. Connor Diemand-Yauman '10 is the person who persuaded me to write more music in college, and then to come with him to Korea to start that crazy song-writing journey, all in all convincing me that it is possible for me to create music without losing my marbles. Though I still do from time to time lose my marbles. My New York roommates, Spencer Case '09 and Sara-Ashley Bischoff '09, formed the two axes upon which I built my personality back when I was but a wee 23-year-old. A personality that's 50% Pocohontas songs and 50%… something else.
What about your life now would your Sophomore-year self be most surprised by?
That seven years later my net worth would be the same as it was during Sophomore year.
What's your favorite thing about your life right now?
The freedom. Now that I've left school – twice – I finally have a sense that whatever comes next is fully of my own design. It is scary being untethered to an institution, having no set path to execute, having no exam scores against which to measure self-worth. But now I feel increasingly like Julie Andrews spinning through the hills at the beginning of The Sound of Music. I bought my first car 8 months ago, and I still get giddy when I realize that I can drive myself anywhere. Go to San Francisco? No problem! Go to LA? Boring drive but you can. Go on a hike? Take yourself! So I started hiking a lot.
Is there anything else you'd like your classmates to know about you?
 I tend not to exhibit many emotions on my face. If you saw me on campus and thought absently "oh there's that angry guy with the blank stare who scares me," I apologize retroactively for scaring you. I still have that blank stare. But I'm working to soften it.