Classmate R.W. Enoch was kind enough to sit down and fill us in on his life as a musician in LA. And, having spent a few years in LA myself, I think R.W.'s description of the city is spot-on! Read on to find out more about his band, the Urban Renewal Project, and some of the differences between Southern California and the East Coast! Thanks R.W!
Can you tell us a bit about what you were involved in while at Princeton?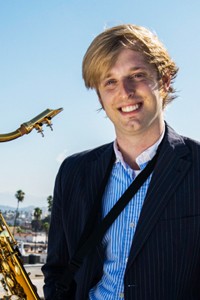 I came to Princeton knowing I wanted to work on music, so it's no surprise that the vast majority of my activities were musical in nature. In addition to majoring in music, I spent a lot of time with the Princeton University Band and the Jazz Ensembles. The PUB was a great way to play a lot of music, hang out with friends at games, and travel the country a little bit. I also had the opportunity to lead the group as conductor and arranged a few dozen new songs, some of which are still in rotation today. The Jazz Ensembles was more of an academic pursuit but had some highlights of its own, including performing with Juilliard Jazz Orchestra at McCarter Theater. I also dabbled in the Orchestra, Triangle pit, PUP pit and played some eating club events with Daniel Berry '09, Theo Beers '09 and Tyler Pines '09 as a party-funk-jazz group.
Talk about what you've been up to since Princeton. What are you currently working on? What has the path been like to get to where you are today? What's next?
A confluence of circumstances—not the least of which was a tanking economy—landed me in Los Angeles back in 2009, working at a music industry job that I didn't really like. After a few false starts, I got settled and began working on freelance music projects out here in L.A. I work on a variety of things, including scoring for film/TV and on-screen musical performance, but my main endeavor right now is my band, the Urban Renewal Project. If you imagine one of these big swing bands from the jazz era, but updated with a repertoire of hypercontemporary pop, soul & hip-hop music, that's basically what we're doing. It's hard to put into words, but really it's just a giant party with a singer, a rapper, and a whole mess of horns. I put a group together back in 2010, and we're just now starting to get some radio airplay, international coverage, and bookings at outdoor festivals and concert series. We actually played at the 5th Reunion tent for our class last year.
Who is a Princetonian who has helped you along the way? Can you talk a bit about how this person has been an influence on your life or career?
The most helpful Princetonians have been the friends I made back on campus. There are a handful of people, like Theo Beers '09 and Charlie Sneath '09, that I talk to regularly and who continue to serve as a sounding board for new ideas and a brain trust for solving problems, just as they did when we were neighbors as undergrads.
I've also met some great alumni since moving to L.A. There's a small but mighty special interest group out here called Princeton-in-Hollywood that caters to alumni in the entertainment industry, and I've made some friends and connections at their events. The officers do a nice job of creating a sense of community out of a pretty fragmented and jaded industry.
What about your life now would your Sophomore-year self be most surprised by?
Living in L.A. was never the plan. Even once I moved here, I thought I'd be living back on the East Coast before my 5th reunion. Now that I've been here six years and have invested so much into everything I'm currently doing, I can't see myself leaving in the foreseeable future.
L.A. is a trip, man. Pop culture really crams Southern California down your throat, from the Beach Boys to The O.C. Growing up elsewhere, you think you have an idea of what it must be like, but you really can't understand it until you've spent an appreciable amount of time here. A lot of the Hollywood stereotypes are true, but almost never in the way you'd expect. The city is kind of one big office, and everyone is always on. I once had a guy ask me what I "do" while we were in the supermarket check-out. It's always a bit of a relief to sneak away to the East Coast for a little bit.
What's your favorite thing about your life right now?
Location notwithstanding, I'm really doing most of the things I always hoped I'd be doing in my twenties. It never really feels like it, because it takes so long to get anything done, and once you get anywhere, you realize how much further there is to go. It's just a lot of work! But I guess anything worth doing is.
Is there anything else you'd like your classmates to know about you?
I'm living in the Valley right now and have been with my girlfriend Lindsay for almost 3 years now. If you ever find yourself in Los Angeles, give me a shout! I've got a spare bedroom for you.
I wish people weren't so shy about reaching out after graduation. I've made quite a few friends out in L.A. that I didn't even know back on campus. Just because I didn't know you that well then doesn't mean we can't talk now. It's too bad there aren't enough hours in the day to stay in touch with everyone.
And the requisite shameless plug: musician for hire here. Do you work in entertainment, music, film or television? Let's talk. My band travels and does weddings and corporate events too.
See you at Reunions!