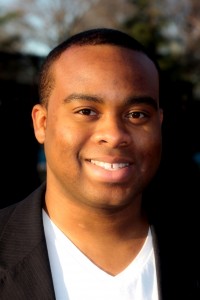 While I had met Kelvin Dinkins, Jr. at Princeton, I really got to know him when we both (somewhat unexpectedly) found ourselves in Seattle in 2010. It was clear that he was heading places and sure enough, not long after we reconnected, he was off to NYC. Now the General Manager of Two River Theater in New Jersey, Kelvin has been gracious enough to tell us all about his journey from NJ to Seattle to NY and back to Jersey! Thanks Kelvin!
Can you tell us a bit about what you were involved in while at Princeton?
Anything but classwork, I can tell you that much. Mostly being in a theatre, around theatre, with theatre people or talking about theatre. I first discovered I had a problem when I watched the Princeton Triangle Club Frosh Week Show (Love Potion No. '09) and could not stop thinking about how much I wanted to be up there with (what I perceived to be) the coolest upperclassmen on campus. From there, it was a downward spiral into Princeton University Players, Theatre & Dance (now the Lewis Center for the Arts) Department thesis productions, BAC: Drama, Princeton Shakespeare Company, Princeton Arts Council and, the deadliest habit of them all, Princeton Summer Theater. Jokes aside, I really did love it and the more shows I agreed to do the more I met other people who were probably "those theater kids" like me in high school. I also joined Tower Club because, and I'm not exaggerating, I didn't once visit another club (besides maybe Terrace) until after sophomore year. I ate at Tower with upperclassmen as much as I could and ended up there on Thurs nights anyway so it just made sense to undergo the formalities of bicker. As my grand exit from the Princeton Arts scene, I decided it would be fun to collaborate with my friend Jason Pomerantz '09 to create and stage an original musical entitled Orpheus Waking.
Talk about what you've been up to since Princeton. What are you currently working on? What has the path been like to get to where you are today? What's next?
Still theatre. I graduated with absolutely no clue or hint as to what I was supposed to do with years of education in English and Theater and a particular need not to spend my every day auditioning for the Broadway. So I turned to management. After being elected to the Princeton Triangle Club's Board of Trustees following graduation, I interned at National Artists Management Company (the NYC producers of CHICAGO, the musical) and then got a job as Associate General Manager out at Intiman Theatre in Seattle, WA (following my former Princeton professor Kate Whoriskey who was taking over as Artistic Director). It bears mentioning that I met a lot of Princeton people out there who I didn't get to know much at Princeton so it was great to be connected to some new friends. Anyway, the Intiman Theatre was on the verge of collapse in the spring of 2010 and I had previously decided that, should things go south, I needed to go hide out in grad school and maybe graduate into a better job market. I decided to apply to Columbia University's School of the Arts MFA in Theatre Management and Producing program so that I wouldn't be in the current position of not knowing what to do when your company is on the brink of collapse.
I got two consulting jobs that afforded me the opportunity to get back on the east coast before I started my program and decided to make the big move back from Seattle. Three weeks later, Intiman Theatre had to close and their employees were let go…truly an unfortunate experience that turned into the biggest learning opportunity in my life and the driving force behind my decision to whole-heartedly pursue a career as a theatre entrepreneur/producer. Columbia's program was perfect for me as I got to see first-hand the particulars of the non-profit and commercial theatre industry all the while learning from a diverse group of practicing, leading industry professionals. Taking classes with the heads of Disney Theatricals, Manhattan Theatre Club and Serrino/Coyne and many other notable companies became the ultimate geek out for the theatre kid who didn't star in a musical until his freshman year of college.
I officially graduated from Columbia on October 1, 2014 and, in January 2014, I luckily landed a job as General Manager of the Two River Theater in Red Bank, NJ (essentially, my plan worked!). I was recently selected as one of ten participants in the Theatre Communications Group SPARK Leadership Program which is an initiative to improve Diversity & Inclusion in the arts field across the country by training leaders of color for executive leadership through mentorship and professional development. I am getting to attend a lot of conferences and have extremely difficult discussions about the field and how best to prepare ourselves for talks around sustainability and creating racial equity in the field's top leadership positions. I am thrilled to be where I am and though it seems like a long journey already, I know there's so much more to do.
Who is a Princetonian who has helped you along the way? Can you talk a bit about how this person has been an influence on your life or career?
It takes a village really. I can't single out one person except maybe my amazing girlfriend, Alexis Rodda '10, who I've been dating since senior year. She's been with me throughout this whole crazy period of life that is your mid-twenties which can be extremely stressful when you're trying to make all these major decisions about who you want to be and what you want to do given the time you have. She's gone through a lot of the same periods of self-discovery I have and I feel that we have been each other's rock when times get hard and each other's cheerleader when things go really well (I also want to take this time to point out that I actually was a Varsity Cheerleader in High School). Alexis also has an entrepreneurial spirit (she started her own company, The Secret Opera, this year and it's awesome to watch her process and offer my own opinions from time to time). Our lives and relationship has been forged as a result of our shared experiences at Princeton and it's pretty amazing to share that with someone else. I guess this question might have been fishing for something less romantic, but I do love her and she is honestly the most influential Princetonian (human being) to make an impact on my life over the years since leaving Old Nassau.
What about your life now would your Sophomore-year self be most surprised by?
Oh God. I was an econ major Sophomore fall and by spring I was an English/Theater major. So Sophomore "me" was a doppelganger that would be most surprised by my decision to choose a career where everyone thinks I would be poor for the rest of my life. On the other hand, I think he would be pretty shocked at how far I've come (gone?) in such a short period of time. I never really understood that becoming a theatre manager/producer was an option for me and since I took my first course in The Art of Producing Theatre during my sophomore year (shout-out to Tamsen Wolf and Mara Isaacs), I am pleased that I have chosen this path thanks to my Princeton experiences.
What's your favorite thing about your life right now?
That I am doing what I love. A few people said that to me during reunions and at first I thought it was a little condescending because I naively assumed we were all doing what we loved…you know, you spend all that money going to college, you should at least be doing something that gives you joy. But I respect and understand that that is not the case for everyone, so my favorite thing about life right now is that I enjoy it. I unfortunately lost my mother (Anya R. Shepherd) this past summer, and it gave me the opportunity to honor and celebrate her life and bring me closer to my younger siblings and family. We have such a finite amount of time on this earth and I would rather spend it pursuing the things that make me happy and finding my own purpose. I have chosen theatre for a reason and it is my sincerest hope that, through my work, I will have the opportunity to make an impact on someone else's life through the art. Since Princeton had such an profound impact on where I am today, I hope that I can connect our whole community of Princeton Tigers who are working in or supporting the arts as undergraduates or alumni and help create a network that supports one another. I have begun that work and that's one of my favorite things to focus on nowadays as well. Oh, and also, that I'm still with my amazing girlfriend, Alexis.
Is there anything else you'd like your classmates to know about you?
I'm always down for more Princeton '09 events and meeting the other 500-600 of you I probably never met yet…I recognize faces mostly but if you ever see me walking down the street say 'hey, you went to Princeton, right?'…I like that.