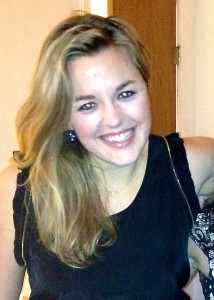 This will be the last profile of 2014—can't believe how it zoomed by! Please do nominate friends and foes, lovers and leaders for inclusion in 2015!
Sara-Ashley Bischoff ("Sash" to her friends) is a New York based writer and director. She's currently assistant directing "On the Town"—which, if you missed it, received rave reviews!—and "How the Grinch Stole Christmas!" as well as working on her own writing and directing. I'm thrilled she took the time out of her (very!) busy schedule to answer our Class Profile questions!
Can you tell us a bit about what you were involved in while at Princeton?
I spent the majority of my time at Princeton splitting my time between theater (T&D, Triangle, Intime, PUP) and the Creative Writing Dept. I took as many acting, directing, and writing (playwriting and fiction) classes as my schedule would allow, and was always involved in acting or directing at least one show at a time outside of class.
Talk about what you've been up to since Princeton. What are you currently working on? What has the path been like to get to where you are today? What's next?
Over the past 5.5 years, I've been pursuing a career in directing theater in New York, all the while working on my writing in between gigs. Being a young director in New York basically means doing a lot of assistant and associate directing, and fitting in your own smaller directing projects when you can. Currently, I'm assistant directing "On the Town" on Broadway, assistant directing "How the Grinch Stole Christmas!" at Madison Square Garden, and developing three new plays with emerging playwrights for potential productions in 2015. I'm also making a concerted effort to focus more on my writing, and have accepted a writing residency at PLAYA in Oregon for the month of May 2015, so that I'm not allowed to get distracted!
Who is a Princetonian who has helped you along the way? Can you talk a bit about how this person has been an influence on your life or career?
Davis McCallum has been an enormous influence, mentor, and friend. I assisted him and choreographed a musical for him at Williamstown a year out of college, and it was an incredibly formative experience for me. I continued to assist him for a couple more years afterward because of that project. To this day, I consider him one of the smartest, most incisive, and most creative directors I know. I learned so much from him, and I think the world of him as a person.
What about your life now would your Sophomore-year self be most surprised by?
I'm not acting! When I was a sophomore, I was 100% sure I was going to be an actor for life. After Princeton, I made a hard-nosed decision to stop acting and pursue directing, and I haven't looked back once. My younger self never would've guessed it, but it was definitely the right choice for me.
What's your favorite thing about your life right now?
I'm in New York, the city I adore, I have a really close network of friends (most of whom are Princetonians), and I'm doing work that makes me happy. As a freelancer, it's both a blessing and a curse to constantly be looking around the corner for your next job. But I love the stimulation and excitement of diving into new stories, and figuring out how to puzzle-piece my way into telling the best version of that story.
Is there anything else you'd like your classmates to know about you?
I'm fully confident my life would look nothing like the one I'm currently leading had it not been for Princeton. I'm so grateful for my experience there, and only appreciate it more with each passing year.