Alexander Bisignano is currently changing the world through his startup, Recombine, a clinical genetic testing company that helps couples make informed decisions about genetic diseases prior to pregnancy. As the co-founder and CEO, Alex has been hard at work building the company from the ground up since graduation. Thanks, Alex, for agreeing to answer a few questions!
Can you tell us a bit about what you were involved in while at Princeton?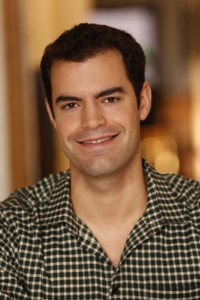 At Princeton, I was a Molecular Biology major with a Certificate in Medical Spanish. Outside of academics, I was a member of Cap & Gown and played on the Varsity Sprint Football team my senior year.
Talk about what you've been up to since Princeton. What are you currently working on? What has the path been like to get to where you are today? What's next?
In 2011, I co-founded Recombine, a clinical genetic testing company. We help couples identify and prevent genetic disease in their children before pregnancy. It's been a random but amazing path since graduation. I didn't really have a job going into senior spring, and I had the intentions of taking the MCATs and going to medical school. Then one day, Professor Lee Silver introduced me to Dr. Santiago Munne, a brilliant pioneer in embryo diagnostics. Over the next two years, I learned computer science, built some software to analyze embryo data, and Dr. Munne and I eventually co-founded Recombine. The company has grown now to over 50 employees and we help thousands of couples identify and prevent genetic diseases in their prospective children.
Who is a Princetonian who has helped you along the way? Can you talk a bit about how this person has been an influence on your life or career?
Too many people to name, but one definitely sticks out: my best friend and roommate, Carter Cleveland '09, has been an inspiration as I've had the privilege to watch him build an amazing company in Artsy, which is changing the world of fine art. Also, classmate Sally Rodriguez '09 was Recombine's first clinical Genetic Counselor and really helped build the business and educate the company about the Clinical Perspective. Other alums who have been instrumental are John Goldsmith '85 who was an early investor and continues to be a close personal advisor, Ellen Hukkelhoven '08, an incredible friend and brilliant cancer biologist turned hedge fund analyst, and so many more who I meet in passing in the biotech industry. Princeton has been incredibly helpful. This isn't even touching on the number of Tigers who are involved in the startup and VC community!
What about your life now would your Sophomore-year self be most surprised by?
The three areas of focus I had academically were Molecular Biology, Finance, and Spanish, and there was no way I thought I'd build a cohesive narrative on how I'd combine all three in my career. Yet, Recombine just officially financed and opened up a new molecular laboratory in Barcelona to perform genetic testing. Couldn't have seen that coming.
What's your favorite thing about your life right now?
The constant-learning and being on the cutting edge. The work Recombine is doing in Genomics is some of the most cutting-edge science in the world. We have the privilege of working with top physicians, the leading genomics companies (illumina & Ion Torrent), and an amazing internal group of counselors, engineers, bioinformaticists, and product specialists.
 Is there anything else you'd like your classmates to know about you?
I'm really passionate about advancing the field of clinical genomics, and would love to meet anyone else who shares this vision!