This Class Profile has been a long time coming! Kate Gilman and I first started emailing nearly a year ago about doing a profile on her and her awesome New York startup, Petal by Pedal. The wait was worth it, not only for the gorgeous pictures she sent along, but also for her thoughts about starting a company, Olive's hummus, and beauty of the Princeton network. Thanks Kate for taking the time to answer my questions and I can't wait to submit an order through Petal by Pedal the next time I need flowers delivered in Manhattan!
Can you tell us a bit about what you were involved in while at Princeton?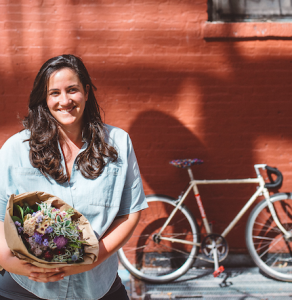 At Princeton, I majored in Politics. I lived in Rockefeller College and rowed Crew my freshman year. I joined Kappa Alpha Theta sorority and I was elected the Vice President of the University Cottage Club. I wrote my thesis on mass incarceration and volunteered with Big Brothers Big Sisters, both of which helped lead me to law school and the study and practice of indigent advocacy while I was there.
Talk about what you've been up to since Princeton. What are you currently working on? What has the path been like to get to where you are today? What's next?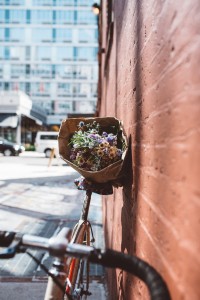 After Princeton I went straight to the University of Virginia School of Law where I got my JD. Since Princeton has no law school, I had to choose the next best thing. UVA and the Charlottesville campus in which it sits are incredible and I had a great three years there learning a new way to think critically. I moved back home to New York after graduating and decided to use my knowledge in business rather than traditional
legal practice, and launched a disruptive start-up in the flower industry called Petal by Pedal. I had enough conversations with local growers in the New York City Greenmarkets and enough experience as a consumer to see a real pain-point and jumped at the chance to create a business that could solve it. Petal by Pedal sources all of our flowers from a network of local New York growers, from Brooklyn rooftops to Long Island and upstate family farms, packages blooms sustainably and delivers them throughout Manhattan by bicycle. This is a much simpler, greener version of the usual floral supply chain, which is usually full of imports and up-selling, and instead offers an authentic and accountable take on the timeless gesture of sending flowers. I love the intersction of urbanand rural and this business gives me all of that in a city in which the possibilities are endless.
It hasn't been a direct path to where I am now and I don't think I could have predicted every turn —but as Gilda Radner said, there is something amazing in that delicious ambiguity. I wouldn't trade where I am now for the world.
Who is a Princetonian who has helped you along the way? Can you talk a bit about how this person has been an influence on your life or career?
As anyone who has gone to Princeton knows, there is something quite special abo
ut being a Tiger. Even more impressive than the incredible undergraduate experience, rich in both intellectual and personal growth over those four years, has been the warmth and camaraderie of being an alumna since leaving campus, now six years ago. More than any particular Princetonian who has helped, of which there have been many, I'd highlight the vast network of Tigers who lend their time and expertise so generously to others. Without drinking too much kool-aid, I simply have an overwhelming feeling of gratitude to call myself a Princetonian.
What about your life now would your Sophomore-year self be most surprised by?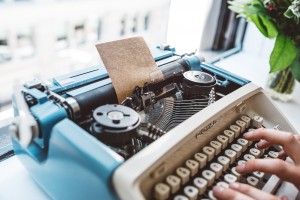 I think I'd be surprised by almost everything about my life right now. Haha. There is something amazing about Sophomore year at Princeton—you are in the thick of the orange bubble, in the best sense of the term, making major decisions in your academic and social life there that feel weighty and long-term. As you get closer to graduation, the world outside of Princeton grows and your perspective becomes more balanced, as with anyone in college but especially in our case, where being there is such a pleasure. Whether it is becoming a lawyer, becoming an entrepreneur, coming out and marrying my now wife, or finding hummus I like as much as Olive's, I'd be surprised by it all.
What's your favorite thing about your life right now?
The intentional way in which I am living it.