Recent Berkeley Law School graduate, Devon Ahearn, was kind enough to take some time out of her day to tell us about life since leaving the Orange Bubble. Her intellectual curiosity and passion for environmental justice have carried her from Princeton to Boston to Berkeley and now finally to Reno, where she's bicycling toward what is sure to be a stellar legal career. Thanks Devon and best of luck with the future!
Know anyone who should be featured here? Should you be? Contact me at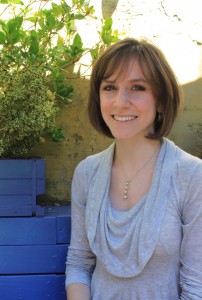 scholick@princeton.alumni.edu.
Can you tell us a bit about what you were involved in while at Princeton?
I spent a lot of time at Princeton trying to find my niche. Academically, after considering a few different departments, I decided to concentrate in the Woodrow Wilson School and to pursue a certificate in Environmental Studies. I worked a lot (or, at least, I spent many hours trying to get work done). I was also drawn to extracurricular activities that involved some form of leadership. During my freshman and sophomore years, I was involved with the Butler College Council and Business Today, which were great opportunities to work with students, faculty, and staff who I might not have otherwise met. I also competed with the Mock Trial team, another community of wonderful and engaging students. After spending junior fall abroad in Paris, I served as a representative on the Woodrow Wilson School Student Advisory Committee and as a Study Abroad Peer Adviser. And throughout my sophomore, junior, and senior years, I volunteered with Big Brothers Big Sisters of Mercer County and worked as a peer tutor.
Talk about what you've been up to since Princeton. What are you currently working on? What has the path been like to get to where you are today? What's next?
Perhaps unsurprisingly, my career path began at Princeton, where I first started seriously learning about environmental issues. I wrote my senior thesis on an environmental justice policy in New Jersey, and that experience continues to affect my personal and professional goals today.
After graduating, I had the opportunity to spend two years as a High Meadows Fellow at The Food Project in Boston. While there, I worked primarily for the Real Food Challenge, a national student campaign for a more just and sustainable food system. I absolutely loved it. I learned more than I ever expected—about myself, about our food system, about organizing and activism—and I got to work with phenomenally creative and dedicated colleagues.
Although I had a sense as an undergraduate that I would go to law school, working for the Real Food Challenge propelled me there. Our work often ran up against legal issues affecting all aspects of the food system, from workers' rights issues throughout the supply chain to contract disputes at its end. I knew I wanted to be able to engage with those legal problems, and I knew that I would find the work challenging and compelling (something I was uncertain of when I left Princeton). So, in 2011, I left Boston for Berkeley.
Law school was so challenging and so rewarding. Once again, I found myself immersed in a community of amazingly impressive students. I spent a good deal of time exploring Berkeley's many student organizations and opportunities, eventually becoming quite involved with the environmental and social justice community. Academically, I focused on environmental law coursework and participated in a clinic that provided legal services to cooperatives and other community-based enterprises in and around the East Bay. I spent my summers (and a semester) interning with environmental organizations, where I mainly supported litigation and regulatory advocacy involving environmental issues.
I've been working in Reno since graduating in spring 2014, and I really love it here. In terms of next steps, I'm planning to continue doing public interest environmental work, hopefully litigating cases that help work towards environmental and social justice.
Who is a Princetonian who has helped you along the way? Can you talk a bit about how this person has been an influence on your life or career?
It's difficult to choose just one. Of the many fantastic professors I encountered at Princeton, I think I've been most influenced by two professors who bookended my time there. First, Professor Patricia Fernandez-Kelly's freshman seminar on poverty and inequality gave me a vocabulary for understanding the privilege I grew up with, and the systematic inequalities that privilege can create. Second, Professor Melissa Harris-Perry, my thesis adviser, introduced me to the environmental justice movement and challenged me to develop a research project that critically examined how policy interacted with the movement. Professors Fernandez-Kelly and Harris-Perry helped me define the goals that I'm working toward today.
Of course, I wouldn't be where (or who) I am today without the love and support of several classmates. Brandon White continues to help me be a better partner, thinker, writer, speaker, listener, and person in general. Jess Asrat and Wenli Cai saw me through the many joys and frustrations of law school, and they are model lawyers and lifelong friends. Alex Barnard's activism and deep intellectual curiosity is nothing short of inspirational. And Jackie Thomas always knows to call (or to hop on a plane) at just the right moment. She, too, continues to inspire me to work hard toward my goals, but to have some fun while I'm at it.
What about your life now would your Sophomore-year self be most surprised by?
I think she would be most surprised by the many routines I've developed over the last several years. For a girl who once spurned yoga as not adequately aerobic, I really got into it during law school, and I love it. During sophomore year, I once borrowed a bike from a friend to ride to an interview for an internship with a local organization. My roommate and I turned the whole thing into a photo op because we thought I looked so silly riding in work clothes and with a backpack. But for three years during law school, I managed to commute to campus by bike, and for the past year, I've biked to work, in work clothes, and with a backpack. I haven't taken any photos of the commute. I think my sophomore-year self would have triumphed at getting up before 10am on a weekend morning. I now go to a weekly spin class well before that on Saturdays (not that I don't like sleeping in every now and then!). I suppose these habits are all the natural results of having more control over my time, but I think my sophomore-year self would nevertheless be surprised by them. She might tell me I've lost some of the spontaneity I enjoyed during college, but, overall, I think she'd be pretty pleased with my life now.
What's your favorite thing about your life right now?
It's actually really exciting to be at the start of my legal career. I love the idea that I could play a role in a broader movement, and that I have particular training to offer. It's a huge privilege to be in this field, and I'm very grateful to be a part of it.
Is there anything else you'd like your classmates to know about you?
There is a great community of Princetonians in northern Nevada, and I've really enjoyed meeting them. If you're ever out here for a visit, please don't hesitate to reach out!